When it comes to social media, it's not the number of followers you have that matters, it's the quality of those followers that matters the most.
High-quality followers are people who interact with your brand on a regular basis. These are people who send you emails on how your last blog post helped them achieve their marketing goals. It's the followers who leave relevant insights through comments and tweets.
But in order to get these high-quality followers to follow your brand on social media, you need to be strategic in your approach. In this article, we'll outline 7 simple ways to grow your social media following and increase your overall engagement.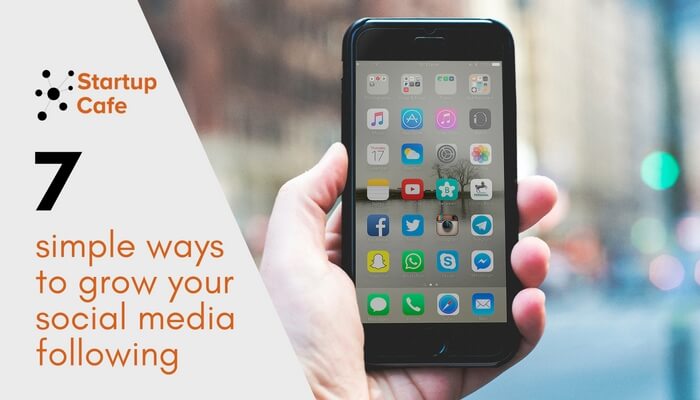 1) Curate High-Quality Content
Lots of brands curate content on social media, but very few do it the right way.
Content curation is all about finding the right content for your audience. It's about sharing content which your audience will find useful and probably something that they haven't stumbled upon before. It's NOT about sharing content just for the sake of sharing.
Once you've found the right content to share, add your own snippet of thoughts about the content and why you think your audience should clickthrough to read the content.
So how do you find shareworthy content for your brand? We recommend using an RSS aggregator like Feedly to aggregate relevant blogs in your niche to stay informed about all the latest news and stories.
You could also use Crate, an app which can help you find great content on different topics.
2) Interact with Other Pages on a Regular Basis
Here's an easy way to get guaranteed followers every day. Comment on other pages.
Commenting on other pages can easily get you 5-10 relevant followers per day, provided you're doing it the right way.
We are not talking about comments like "great post" and "thanks for sharing" – these comments do nothing! Leave intelligent comments which show that you have accurate understanding of the content that was shared. Show your subject matter expertise. Interact with other people who have commented on the subject and try to answer their questions.
Not only will your comments fetch you more likes, but you'll notice many people visiting your page and liking the information and content on your page. Similarly, make sure you're interacting with brands and influencers on Twitter on a frequent basis.
3) Interact with Followers who Leave Comments and Anyone who Mentions your Brand
Effective social media marketing is all about making connections and having conversations. It's important for your brand to monitor your social presence and interact with your followers in order to build a loyal following.
Make sure you're monitoring the mention of your company name, username, and unique hashtags every single day. Thank your followers when they say something nice about you or your product and respond to negative comments as well. Not responding to negative social media comments promptly is an easy way for people to lose faith in your brand.
4) Run Targeted Contests
Running targeted contests is one of the most effective ways to gain new followers.
The key to a successful social media contest is choosing a prize or giveaway that is aligned with the interests of your brand and audience. After all, you wouldn't want anyone and everyone to follow your brand.
We recommend using tools like Gleam or Wishpond to run Facebook contests. Gleam has a free plan, so if you're running on a tight budget, we suggest you try Gleam.
Check out this post to learn more about how to run a successful social media contest.
5) Leverage Custom Audience on Facebook
Use Facebook's custom audience feature to run ads targeting people in your email list. These could be people who have subscribed to your blog, downloaded an eBook, or any other resource from your website.
By using custom audience, your ads on Facebook will be seen by people who are already familiar with your brand. This will result in a higher CTR and lower CPC.
6) Cross Marketing
Let's say you have an awesome Facebook page with tons of engaged followers. Wouldn't it be nice to have a small portion of this audience follow you on a social network where you haven't made your mark yet? Cross marketing allows you to do exactly that!
Remind your followers (at least once a week) on one network that you're also on another network. Facebook even allows you to set up tabs for different social media accounts such as Instagram, Pinterest, and YouTube.
7) Leverage Facebook Live Videos
As we discussed in this post here, Facebook is not just prioritizing videos, it's prioritizing Live videos. This means that if you want your content to stand out, a Live broadcast is what you need!
To start a live video broadcast on Facebook, tap on Update Status and then select the Live Video icon. If you'd like, write a quick description and choose the audience that you want to share with before taking your video live.
During your broadcast, you'll see the number of viewers, the names of friends who are tuning in and a real-time stream of comments. Broadcasts can be no longer than 30 minutes, and when you end your broadcast, it will be saved on your Timeline like any other video.
Over to You
One of the key metrics of social media is engagement. The number of followers will have absolutely no impact on your business if they are not engaged. If your Facebook page has over 200,000 fans, but no engagement, your page might as well have 0 fans.
To get high-quality, engaged followers, follow these 7 tips and let us know how it's working out.
Leave your thoughts in the comments section. We'd love to hear from you.
If you liked this post, you may also like:
Need help with social media marketing? Compare our social media plans here and schedule a free consultation to learn more about how we can help you build a solid presence on social media.