What are the annoying social media habits of certain brands that make people unfollow them? To find the answer, Sprout Social recently conducted a survey of more than 1,000 people to get their opinion on various aspects of branded social media content. The survey revealed interesting insights into why people tend to unfollow brands on social media.
Here are the top 5 reasons: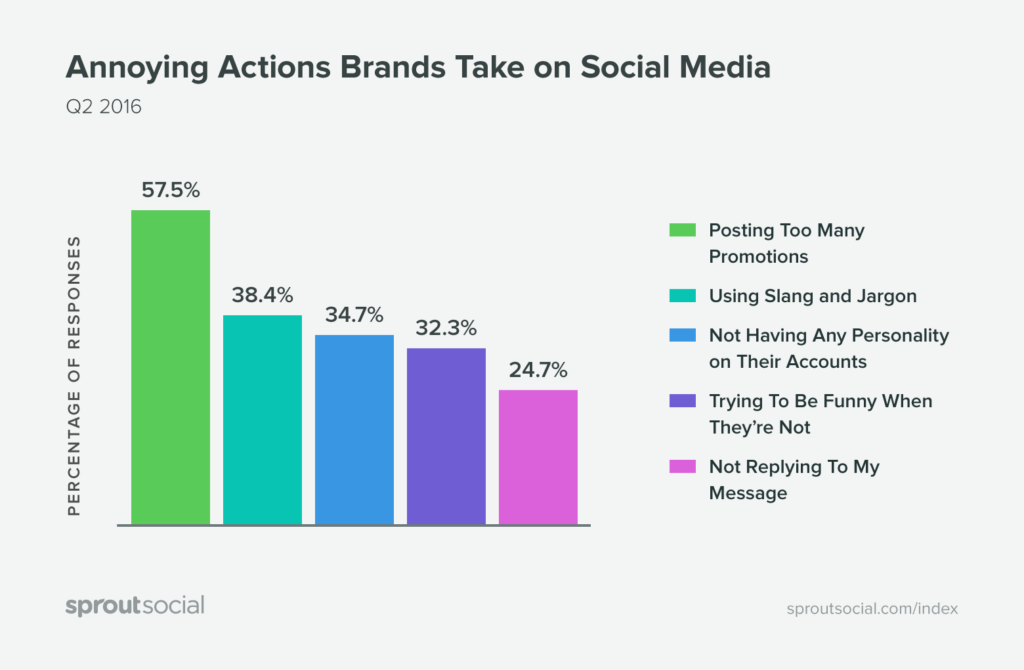 1) Posting too many promotions – According to the survey, the number one most annoying thing that brands do is over-promote their products or services. Social media is not an advertising platform, it's a conversation medium. While you can always run social media ads in parallel, you social content should not be overly promotional. Just follow the 80:20 rule. 80% of your content should be aimed at educating/helping your social community and only 20% should be aimed at promoting your products.
2) Using slang and jargon – In an attempt to connect with 'millenials', several brands resort to using slangs and jargons. Don't try too hard to connect with your target audience. Choose a communications style that suits both your brand and your audience.
3) Not having any personality on their accounts – If your social media feed is full of promotional posts and irrelevant quotes, you can't expect people to connect with your brand. It's important to define your brand mission and objective before building your social media and content strategy.
4) Trying to be funny when they're not – Similar to using slangs and jargons, some brands try way too hard to be cool and savvy by resorting to cringe-inducing humor. Experimenting with different types of content is a must. But at some stage, you've to realize certain things are not working out.
5) Not replying to messages – Some people follow brands to address their concerns and questions regarding products and services. So if you're not replying these messages in your inbox, you're alienating a big chunk of your social media audience.
There are some other interesting data points in Sprout Social's full report, including industry-specific breakdowns and insights – worth reading in your free time.
Need help with your social media content strategy? Startup Cafe can help – check out our social media services & plans and schedule a consultation today.