Did you know you could decrease the number of unsubscribes in your email list by designing a creative unsubscribe page?
The unsubscribe page is most often ignored by brands, but it's one of the most important pages on your website.
A creatively designed unsubscribe page has the potential to decrease the number of unsubscribes and even increase loyal followers of your brand.
But how do you make sure your unsubscribe page is effective?
According to Usabilla, you need to use six elements to design an effective unsubscribe page:
Show your personality
Keep to the point
Show that you care
Offer a re-subscribe option
Offer alternatives
Keep it simple, but relevant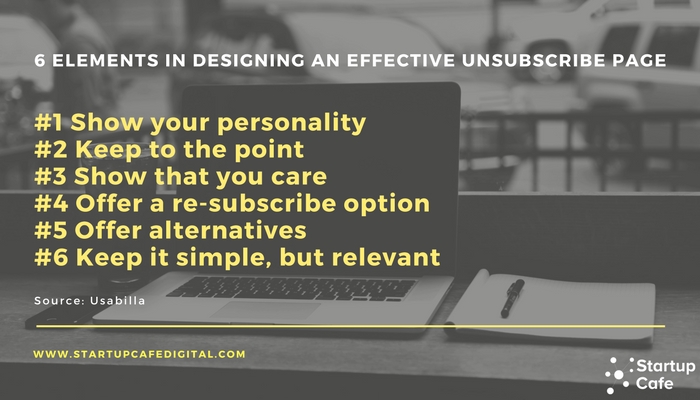 The 5 brands featured below follow the most effective unsubscribe page best practices. So get ready to take some notes!
5 Unsubscribe Pages to Inspire Your Email Marketing
1. Vimeo
Using cute little animated robots, Vimeo gives their subscribers the option to change their mind by simply updating the type of content they'd like to receive in their emails. Even if the subscriber chooses to receive only the monthly newsletter, you're not losing the contact from your email list completely. At the end of the day, any type of communication is better than no communication at all.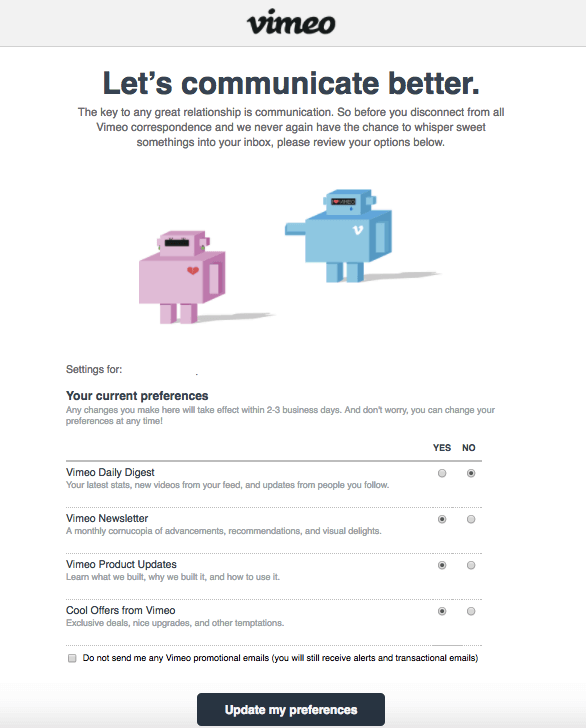 2. HubSpot
This one is quite old, but still effective. This HubSpot video combines humor and persuasion in an effective manner to keep you subscribed to their newsletters.
Would you still want to unsubscribe after watching the video? You decide!
3. Sidekick
Sidekick, an email tracking software owned by HubSpot, takes a slightly different approach to unsubscribe pages. HubSpot sends an unsubscribe email (like the one below) to the inactive users in their email list. People who'd like to keep receiving emails from Sidekick can opt to do so by clicking on 'Keep me Subscribed' button.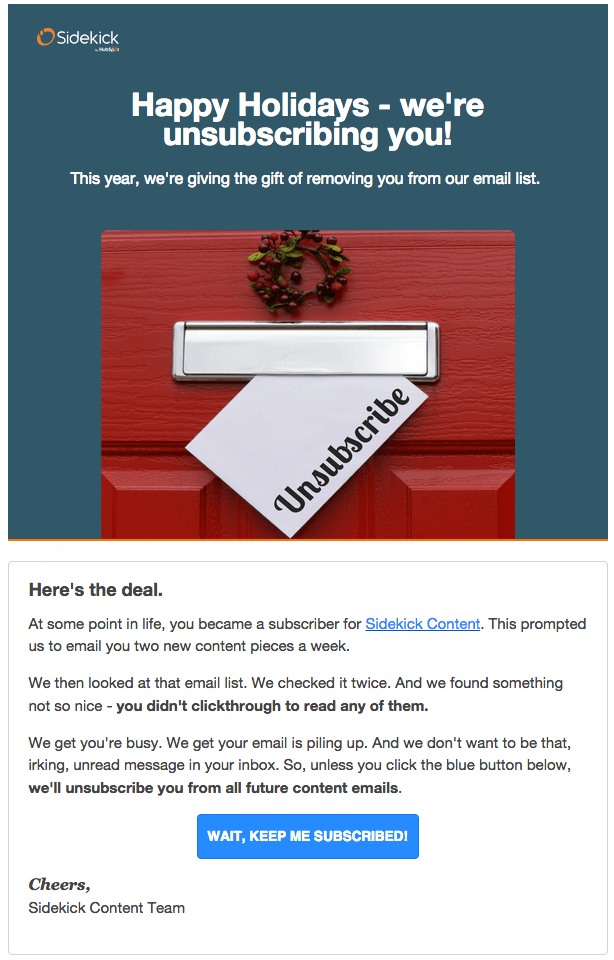 Image Courtesy: HubSpot
The team at HubSpot sure knows how to deal with unsubscribes.
4. Grammarly
Grammarly addresses the pain point on their unsubscribe page right away by saying, "Help us improve your experience with Grammarly through better communication."
Grammarly allows you to pick and choose the type of communication you'd like to receive from them. This gives subscribers the choice to opt out of the type of content they are not interested in.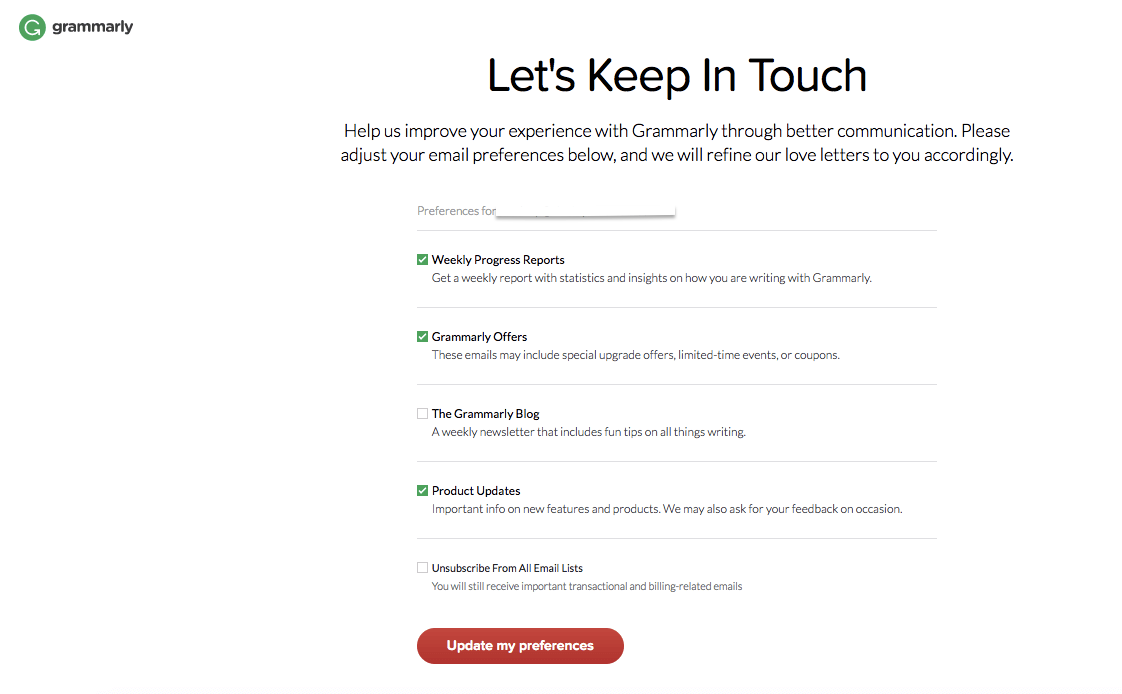 5. Bonobos
Like any other online shopping portal, Bonobos sends emails to their subscribers on a daily basis. Needless to say, this may end up annoying a lot of subscribers. Hence the need for a creative and effective unsubscribe page that significantly reduces the number of subscribes.
Bonobos' unsusbcribe page offers you frequency preferences to decide how often you'd like to receive emails from the company.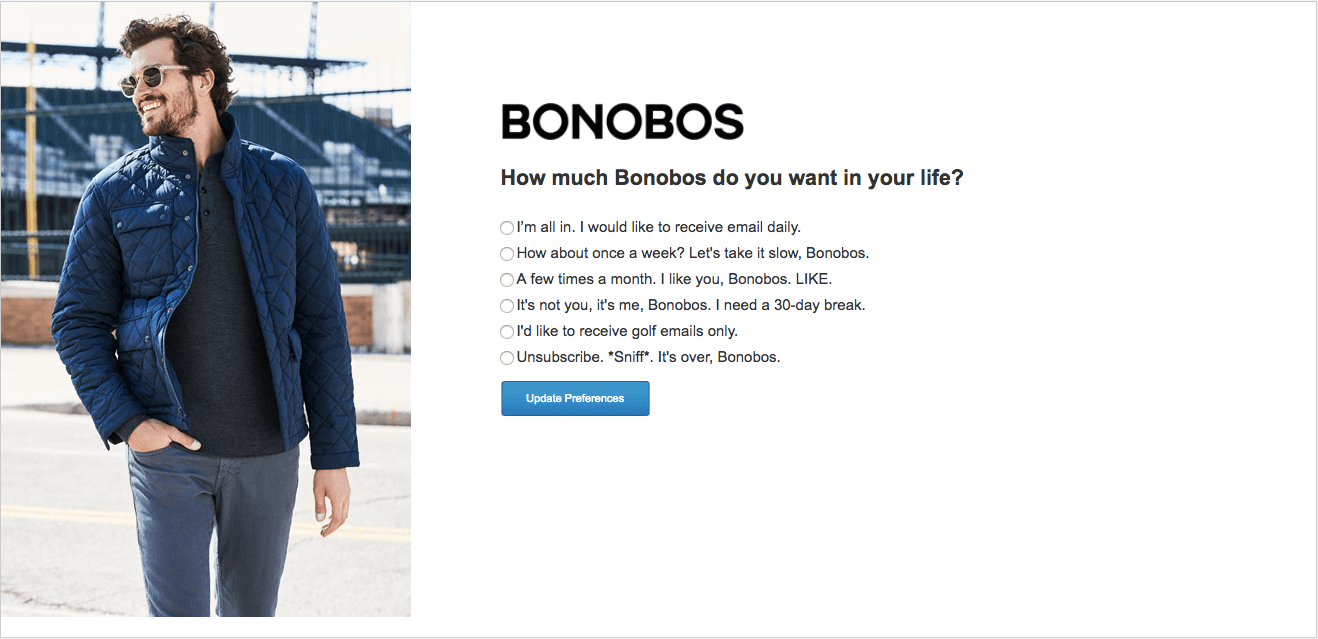 Conclusion
These brands show great creativity in designing their unsubscribe pages and teach marketers a valuable lesson – just because someone hits the unsubscribe button on your email, it doesn't mean they are gone for good. Sometimes, you need to remind people why they chose to receive emails from you in the first place. Make sure you give them the option to change their mind by designing an effective unsubscribe page.
Create Better Email Campaigns in 2017: At Startup Cafe Digital, we help small businesses create and implement email marketing campaigns that get real results. Check out our plans and book a free consultation today!
Related Articles