Since it first launched in 2007 as Facebook Flyers, Facebook Ads has grown into one of the biggest online advertising platforms in the world. It has also grown more and more expensive every year, with CPMs rising as more businesses flock to Facebook Ads as a way to generate leads, sell products and strengthen their brands.
Almost all social media marketers see an overpowering need to optimize their ads for a higher click through and conversion rate. Ads that performed well a couple of years ago, for example, might fail to produce a positive ROI today due to the rising cost of advertising on Facebook.
Increasing your Facebook Ads CTR has secondary benefits beyond a lower Cost per click (CPC). With an optimized ad you also achieve:
A reduced advertising cost because Facebook will give you a higher Relevance Score
Higher level of engagement from your target audience due to Improved longevity
Users are far more likely notice your ad and hence you get, more shares, likes and social activity,
In short, making a few small changes to your ads that increase CTR can have multiple benefits for your campaign.
Let's look at three best ways to improve your Facebook Ads:
1. The Target audience – Get it right
Split large audience into small "micro-audiences" This is always a good idea in terms of getting higher quality social media ad results

Target a narrow age group (for example, women aged 34 to 40 instead of all women on Facebook) and use a headline and image that relates to that age group
Narrow your targeting using interests, then rewrite your headline and ad copy to focus on that specific interest
Target a specific city or region and mention the region (for example, as part of a special local offer) in your ad headline and copy
For example, if you sell digital language learning courses, you can target a broad audience to promote your entire catalog. Or you can specifically target English-speaking expats in foreign countries to promote your course for the local language.
Splitting audience into groups helps use different campaigns and ad-sets to experiment with variations of your ads in terms of creative images, messages or offers.
Use "Custom Audience" for targeting. For example, this could be an email list from your database of leads. When you choose to display ads to a custom audience instead of to the masses, you are targeting people who know you and have already had touch points with your brand. You will likely have a higher conversion rate among those who are on your list but haven't purchased from you yet. Use a third-party service to get detailed demographic information about your email contacts
Retarget web visitors Again these are people who are already aware of you and have shown interest in your product or service. Your conversion rates here are bound to go up. This is extremely effective from a cost and performance perspective when launching a new product or offering an existing product that is relevant to a particular visitor
2. The messaging – engage and be relevant
The use of social media and digital devices in general has led to multitasking and eventually reduced attentions spans. A study pegs the average attention span of humans, at 8secs, which is now lesser than that of a goldfish!
So if you want to capture the attention of your target customer make sure your messaging is what he wants to see, where he can see it and highly relevant
Speak directly to your target audience
"People feel better after they spend a week traveling the mountains in Himachal.
You will feel better after you spend a week traveling the mountains in Himachal."
This is the difference between an ad that talks about something, and an ad that talks directly to a specific audience. Instead of visualizing someone else enjoying the pristine nature in Dharamshala, you visualize yourself doing what the ad describes. The most effective ads, speak directly to their target audience.
The image you use is of utmost importance. As the image itself can't contain more than 20% words, its main function is to grab attention. If you can do that, half the battle's already won
Lets look at both the images below. Which one will grab your attention when you scroll through those numerous feeds on your Facebook wall?
Because the first ad looks so professional, it blends in with the other content most users see on Facebook and likely won't attract much attention.
The second ad, on the other hand, immediately stands out from the other content most people share on Facebook. Anyone with a damaged Macbook (the ad's target audience) will recognize the image and understand the purpose of the service being advertised.
Facebook users are largely immune to obvious, traditional advertising. Replace the typical stock photo with an eye-catching, "real" image and you'll stand out from advertisers while getting more traffic from every 1,000 impressions.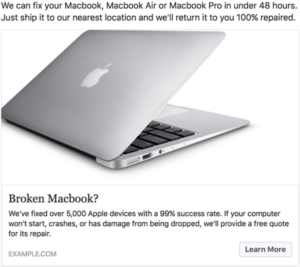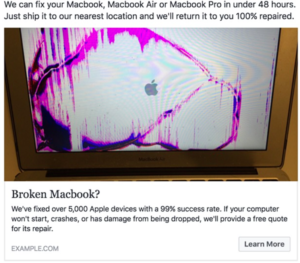 Stick to the news feed on the desktop. Facebook offers a variety of ad placement options, ranging from large News Feed ads to small ads that are displayed in the right sidebar. If you're aiming for a high CTR and maximum engagement, you'll want to stick with News Feed ads on Desktop. This ad type allows for a large image and a long description, helping it stand out more to Facebook users.
If you're new to Facebook Ads, deselect all other placements so that your ad set only displays on the Desktop News Feed. You can add other placements later, once you've optimized your campaign and achieved a positive ROI.
As well as achieving the highest CTR, Desktop News Feed ads tend to convert better than other ad types thanks to the longer description. They're also more engaging, letting you rack up more conversions from small audiences that are easily exhausted using other ad types.
All of Facebook's ad placements have value, but optimizing for the sidebar or on mobile is much more of a challenge than optimizing for Desktop News Feed.
Use your cover photo You can engage your fans and increase your likes and reach by starting contests related to your cover page — a great example is Dunkin Donuts, which asks fans to send in photos of themselves enjoying Dunkin Donuts and then chooses the fan of the week for their cover. Fans love it, they engage with their brand and it encourages people to check back and share if they won the weekly contest. It's an ingenious use of free marketing space to engage fans and promote new products at the same time.
Use video: Videos have one of the highest engagement metrics on Facebook out of all the media options (like photos or text), Use it! Consumers are likely to spend more time engaging with your brand through a video and hence, a sure shot way to boost engagement metrics
Add shareable content: Instead of advertising your product or service directly, run ads to promote interactive content that your users would like to share. Run games/ contests that offer players discounts and coupons based on their scores. You can also use Facebook ads and sponsored posts to promote the game. The results are consistent with lower CPA (thanks to the "free" users we would get due to player referrals) and higher CTR. To summarize, the trick is to identify content that your target audience engages with and use paid campaigns to promote it for optimal performance.
Collaborate: with others in complimentary industries and run quality ads that allow each entity to show that they are a valuable entity. If everyone goes in together, it won't look like one person is trying to advertise anything.
3. Test, Measure and re-create
The only way you'll know if your Facebook ads are working is if you know how many Facebook clicks turned into sales.
If you're not capturing leads from Facebook, you'll want to start immediately. It may be cheaper and easier to run Facebook ads that link to your Facebook page; however, to gather leads who are interested in your marketing, send people to your website. This way you can offer them something of value in exchange for their email address.
Test your images, create segments and use multivariate testing to optimize: Whether you are varying ad copy, creative images or offers, be sure to test these different variables against multiple pre-defined customer segments. Use different campaigns and ad-sets every time you are testing a variation. Doing so will allow you to isolate the effect of the variable normalized across severything else. This approach weeds out the bad ads from your campaign and pushes forwards the best ones, helping you avoid spending money on ads that aren't producing optimal results.
Below are three metrics that you should track for greater ad effectiveness
#1 – Ad frequency: We've all had those moments when a superbly performing ad campaign suddenly stops delivering. So we're left wondering what might have happened to this superstar. One of the most common problems in that your ad campaign has reached a high ad frequency, meaning that Facebook has shown the same ad more than 3 times to the same person.
Regularly checking your ads' frequency is a must if you want to avoid ad fatigue and stop annoying your audience with the same ads all over the place (that is, their Facebook News Feed).
Example : AdEspresso analyzed how ad frequency affects the click-through rate, cost-per-click, and cost-per-conversion of ad campaigns
# 2 – Relevance score: Does your audience love your ads? What if they hate them instead?
The Relevance Score is a calculated metric that helps to understand how your audience is reacting to a particular ad. It's a great beginner-level metric to learn about your audience's preferences and adjust your ad campaigns accordingly.
A higher relevance score raises Facebook's willingness to display the ad in users' News Feed and lowers the cost-per-click
# 3 – Click-through-rate vs. Conversion rate (The real ROI of your ads)
Your ads might be having an awesome click-through-rate, but if they don't convert, you won't get any new customers. It is wiser to let go of the click bait and use a clear message that explains what you expect people to actually do (a call to action like "Sign up" or "learn more")
In conclusion
Facebook wants users to see the content they like. The most recent news feed algorithm change is designed to show people the stories they'll personally find most informative.
Engagement breeds engagement. So give your fans content that they can't help but engage with, and then watch the resulting impact.