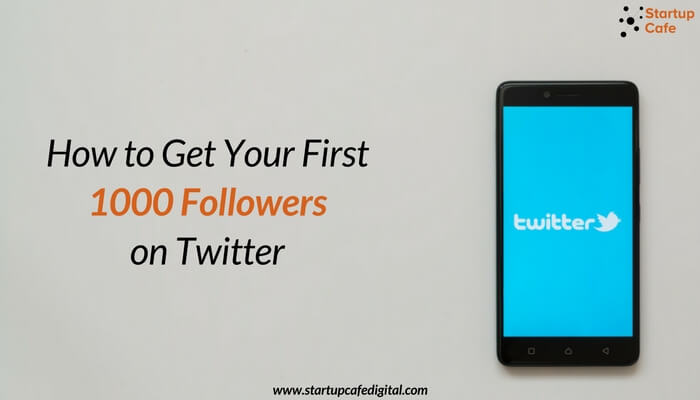 Your Twitter follower count is an important metric for various reasons. It adds credibility to your business and makes it possible for you to maximise the reach and engagement of your content.
If you have just joined Twitter or maintained an inactive presence thus far, here 6 simple tips you can try to get your first 1000 followers.
6 Quick Tips to Get Your First 1000 Twitter Followers
1) Optimize Your Twitter Bio
You get only 160 characters to introduce yourself on Twitter. Use them wisely.
Write a great bio for your account by selecting one or two top keywords or hashtags in your niche. Upload your most recent photo as profile picture and use a catchy cover photo. And finally, add your website URL. Register for a free account with Buffer or Hootsuite and schedule 5-7 tweets per day to get started.
2) Follow Relevant Accounts in Your Niche
Many Twitter users tend to follow back those who follow them. Use a tool like Buzzsumo to find influencers and bloggers in your niche.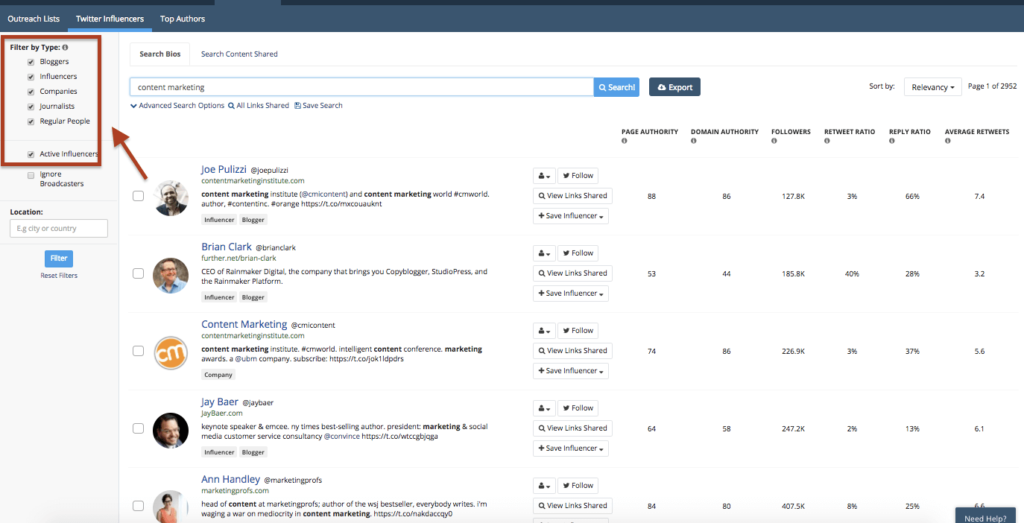 Remember to balance out your follower/following ratio from time to time. To do this, register for a free tool called Crowdfire to unfollow any accounts that don't follow you back. The tool also allows you to monitor inactive followers (people who haven't tweeted in the last 1 month or more) so that you can unfollow them.
3) Include Twitter Buttons on Your Site
There are five types of Twitter buttons you can include on your website or blog:
Share
Follow
Mention
Hashtag
Message
The 'Follow' button is the most useful in gaining more followers. Place it on all the prominent pages on your website and also include it in the website footer.
To add the 'Follow' button on your website, visit this page and select Twitter Buttons.

Next, select Follow Button, enter your Twitter profile URL or username and hit Preview. Copy the code that's shared on the next page and embed it on your website.
4) Participate in Twitter Chats
No matter what niche you operate in, there exists a Twitter chat you can participate in. Participating in Twitter chats can help you learn new things, showcase thought leadership, get noticed by top marketing influencers, and ultimately, get more relevant followers.
Just follow ChatSalad on Twitter to get information on Twitter chats that are currently happening or taking place in the future. To gain more followers during and after the Twitter chat, try to answer about 75% of the questions being asked.
Q1: In your field of work, how would you define a "meaningful experience"? #bufferchat pic.twitter.com/vyqb4u2OOD

— Buffer (@buffer) July 26, 2017
If you're in the digital marketing space, here are some of the top Twitter chats you can participate it.
#BufferChat – Hosted by Buffer on Wednesdays at 12pm EST.
#SEMrushchat –  Hosted by SEMrush on Wednesdays at 11am EST.
#EmailChat  – Hosted by AWeber every other Thursday at 12pm EST.
#HootChat – Hosted by Hootsuite on  Thursdays at 3pm EST.
#SproutChat – Hosted by Sprout Social on Wednesdays at 3pm EST.
Check the full list of 25 best Twitter chats for marketers here.
5) Use Proper Hashtags
Hashtags are ubiquitous on Twitter and as such, you should include them in your tweets from time to time. When you use a hashtag, you are increasing the reach of your tweet to people who don't follow you yet.
In order to research trending hashtags in your space, use a tool like Hashtagify.me.
That being said, don't use too many hashtags. Don't use more than 2 hashtags for a post.
6) Share Your Twitter Profile on Other Social Networks
Leverage other social networks to spread the word that you are now on Twitter. If you have a Facebook page, then make an announcement on your page and urge your fans to follow your account on Twitter. Make a similar announcement in your company newsletter and send an email to your friends informing them to follow you on Twitter.
Summary
Aside from following these tips, remember to tweet actively and don't engage in self-promotion. Tweet insights and links to content your followers would find useful.
Once again, here's a summary of how to get your first 1000 followers:
Optimize your Twitter Bio
Follow relevant accounts in your niche
Include Twitter buttons on your Site
Participate in Twitter chats
Use relevant hashtags
Share your Twitter on other social networks
Would you like to share a few tips on how to get more followers on Twitter? Let us know in the comments section.
Take the guesswork out of your social media marketing by hiring inbound experts from Startup Cafe Digital. Fill this form to schedule a free consultation with our team.