In this week's SEO Pro Tip, you'll learn what is meant by canonical URL and how you can use it to avoid Google penalty.
A canonical URL is an HTML link tag with attribute rel=canonical which allows you to tell search engines that certain similar URLs are actually one and the same.  Sometimes you may have content that is accessible under multiple URLs or websites. Using a canonical URL , you can ensure that the content exists on multiple URLs without affecting your search rankings.
Some of the posts here are replicated on my inbound marketing blog – 99signals because we essentially cover the same topics. Using a canonical URL helps me avoid duplicate content issues which can really hurt the site's SEO.
How to Use Canonical URL?
We highly recommend you use Yoast SEO WordPress plugin. Yoast makes it easy to use the canonical url tag. Just click on the Advanced tab, and type your URL in the Canonical URL box.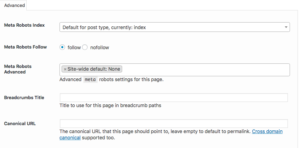 Stay tuned for more SEO Pro tips each week.
Need help with SEO? Get in touch with SEO experts at Startup Cafe now!